Media Alert: Rod Blagojevich Rumored to Be Democrat (Unconfirmed)
James Taranto
29 June 2011
One Comment
Spot the Party
"A grand jury [sic] convicted former Illinois Governor Rod Blagojevich, a Democrat, on 17 of 20 counts of corruption. 11 of of the guilty verdicts related to attempts to profit from the "sale" of the U.S. Senate seat Barack Obama vacated when he became president," Tom Blumer of NewsBusters.org wrote last night:
In six items all carrying today's [now yesterday's] date found at the AP's main site in a search on the former governor's last name at 8:15 p.m. ET, the wire service not only failed to tag Blago as a Democrat, it failed to tag anyone as Democrat.
This was eventually remedied, Blumer reports, in a 9:41 p.m. AP dispatch. That dispatch was updated again this morning; its fifth paragraph reads: "Uncharacteristically, the 54-year-old Democrat had little more to say, adding only that he was stunned by the verdict."
An NPR.org blog entry from yesterday likewise made no reference to the Democratic Party, except for this passage quoted from the New York Times: "For Democrats here, in a state government controlled almost entirely by Democrats, the final chapter could not come soon enough." (That Times story, likely also updated since yesterday afternoon, mentions the ex-governor's party in the second paragraph.)
By contrast, a reader sent along no fewer than 11 NPR.org links (sorry, we're too lazy to paste them all in) about the trial and conviction of Randy "Duke" Cunningham, a former California congressman–all of which identified him as a Republican.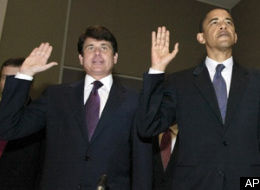 An AP dispatch from this afternoon, meanwhile, makes no reference to Blagojevich's party in answering the question everybody is asking:
A federal prison manual says there's no limit on hair length "as long as it is neat and clean," so former Illinois Gov. Rod Blagojevich may be able to keep his famous locks if he's incarcerated.
Though perhaps he could persuade the judge to go easy on the sentence in exchange for testifying against his hairstylist.
Read more at the WSJ