Me-First Remap: Incumbent Protection Program in Place for Cook County Board
Russ Stewart
24 July 2012
2 Comments
If Cook County's 17 commissioners were among the crew of the Titanic, none of them would have appeared in the obituaries. None of them would have gone down with the ship. All of them would have gotten choice seats in the lifeboats.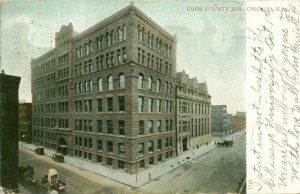 Their instinct for self-preservation is understandable. They get a staff, expense allowance, and $85,000 salary. They get input on the county's $3.1 billion budget. But, most importantly, they get no hassle.
Their 50 Chicago city council colleagues, who earn $111,000, are constantly bombarded with constituent service demands. The 17 commissioners' job is to fund the court system, county jail, forest preserves and the social service bureaucracy. Those "services," especially in the white areas of the city and suburbs, are minimally necessary. With few service inquiries, two meetings per month, sufficient obscurity to deflect opposition, fundraising capacity, the ability to actually focus on public policy issues, and no real county board "boss," the job is really sweet.
Rarely does a sitting commissioner get defeated. Such is the incumbents' arrogance that five of them (Bill Beavers, Robert Steele, Deborah Sims, Joan Murphy and Earlean Collins) refused to accept the requested ten furlough days, which would have saved $29 million, and cut their salary by 4.5 percent. Steele, Sims and Murphy, later reversed themselves
The job is not only a steppingstone to higher office, but is viewed as a step-up from other office. Ex-commissioners Forest Claypool, Mike Quigley and Roberto Maldonado are now, respectively, CTA chairman, congressman and alderman. John Fritchey quit the state legislature to be commissioner, and Bill Beavers quit as alderman. Fritchey and Bridget Gainer, a Lakefronter with family ties to the 19th Ward, are positioning themselves for a future run for mayor or board president. In a post-Rahm election, Gainer thinks that she, as the only female, can win.
In June, the Board passed its predictable "ME FIRST" map. Fifteen of 17 incumbents took care of Number One in the recent reconfiguration of the county's single-member districts.
Here are some salient facts:
* Cook County's population declined from 2000-2010 by 3.4 percent, to 5,194,675. This was fueled by a Chicago population drop of 7 percent, and an outmigration of 200,000 blacks, most relocating to the south and west suburbs. Hispanic population increased by about 150,000.
Of those 5,194,675, 2,278,358 are white (43.8 percent), 1,265,778 black (24.3 percent), and 1,244,762 Hispanic (23.9 percent), with the rest (8 percent) unclassified or multi-classified. In theory, of 17 board districts, 8 should be white-majority, 4.5 should be black-majority, and 4.5 should be Hispanic-majority.
* "Non-retrogression": There are two eternal verities: life and death. However, in the political realm, as mandated by the federal Voting Rights Act of 1965, there is a form of immortality: It's called "non-retrogression," and it means that once a majority-minority district/ward has been created, it lives forever – even if there is demographic change, and it becomes non-majority-minority district.
In other words, once a political subdivision goes black, it's a violation of federal law if it ever goes back (to white), or, presumably, forward (to Hispanic).
After months of wrangling, shrieking and threatening of lawsuits, a "ME- FIRST" incumbent-protection map was drawn. There are now ten whites (6D, 4R), five blacks (all D) and two Hispanics (both D). Under the new map, the west suburban district of Jeff Tobolski (D), also McCook's mayor, went from a 41 percent Hispanic Voting Age Population to 56 percent. Tobolski's not in jeopardy, since Hispanic turnout is desultory.
The new map, effective in 2014, will be the same as the old map: Ten whites, 5 blacks, 2 Hispanics.
* No guts and glory. When Toni Preckwinkle, the black 5th Ward alderman, succeeded the inane and inert Todd Stroger in 2010, she promised "reform." Her 2011 budget was supposed to slash county spending by $112.3 million (3.7 percent), effect 1,000 layoffs and an across-the-board 3 percent cut in every department, and no-step pay hikes for non-union employees. Instead, county spending is down by an anemic $2.5 million, revenues have dropped by $317.7 million, and a $315.2 million deficit looms. Preckwinkle is not much of an improvement over Stroger. In 2014, she can expect a primary challenge from Fritchey or Gainer.
* The second most jeopardized district (after Tobolski's) is that of West Side black Earlean Collins. Elected in 1998, she was previously an Austin-area state senator for 22 years. Her gripe is that the new district is likely to elect a white sometime during the 2010s. That violates "non-retrogression."
Collins has announced her retirement, so remappers ignored her. They created a "Don Harmon" district, named after the Illinois Senate President pro temp, and Oak Park Democratic committeeman. The new 1st District encompasses 32 of Oak Park's 38 precincts, a string of upscale white enclaves nestled along the Eisenhower Expressway, plus the black-majority suburbs of Bellwood, Maywood and Hillside in central Proviso Township, and the black-majority 37th, 28th and 29th wards. Collins wanted her and Steele to push their districts south and absorb more South Side black precincts. Steele got his wish, appending his near West Side 27th and 24th ward base to the South Side 2nd, 3rd and 6th wards. He's unbeatable.
In 2010, Collins beat Ade Onayemi in the primary by 16,909-10,599 (47.4 percent), with others running. In the 2010 election, against a Green Party candidate, Collins won with 79.3 percent, but carried Oak Park by only 15,335-5,086. She's fading fast. Regardless of whether Collins runs or not, the white Oak Park boss will anoint the next black commissioner.
Here, in the order of creative cartography, are other interesting races:
11th District: A county board without a Daley would be like a morning without…. Well, you get the picture. John Daley, the ex-mayor's brother, has been commissioner since 1992 and finance committee chairman since 1994. Unfortunately, while Bridgeport and the 11th Ward retain a white majority, all around is a sea of Hispanics. Not to worry. The remappers simply leapfrogged Bridgeport out to Midway Airport along the Stevenson Expressway, and attached it to the 13th, 23rd and 19th wards, still-white enclaves dominated, respectively, by Mike Madigan, Bill Lipinski, and the Hynes Clan. And, to seal the deal, added Oak Lawn in Worth Township and all of Stickney Township. That makes John Daley untouchable.
5th District: To call white commissioner Joan Murphy, elected in 1998, a cipher in the (John) Daley Machine would be accurate. She voted for the Stroger sales tax, then voted to repeal it, then voted to override his veto of the repeal, then voted to pass his $3.2 billion 2009 budget. Does she have a clue? The remappers kept her wrap-around district intact, even though black population is surging. All the black south suburbs in Calumet, Bremen, Thornton and Bloom townships, and the 34th and 9th wards, are in Sims' district, and Murphy's encircles it. Murphy won her 2010 primary with 53.7 percent. Her days are numbered. In either 2014 or 2018, a black will unseat her.
4th District: Bill Beavers has smoothly handled his transition from colorful to comical. After being indicted in February for income tax evasion, Beavers has evolved from boasting about the size of his sexual equipment to disparaging the size of the U.S. Attorney's. He's now a joke. His 7th Ward base has collapsed. Sandi Jackson, the congressman's wife, beat Beaver's daughter for alderman in 2007, and then beat him for committeeman in 2008. In the 2010 primary, Preckwinkle's candidate, Elgie Sims, lost to Beavers for commissioner by 21,016-26,025 (44.7 percent). Beavers is DOA for 2014. Sims just won an Illinois House seat, so it is likely that Preckwinkle will run for Beavers' seat, which would give her a vote.
9th District: Some politicians make waves, others make ripples. Pete Silvestri is the Ripple Man. On the Board since 1994, and also Elmwood Park's mayor, Silvestri has been a solid, stolid vote against increased spending and taxation. In his 2010 campaign, Silvestri sent out mailers claiming that he was "Todd Stroger's worst nightmare" – a bit of an exaggeration. He nevertheless won by 47,333-31,186 (55.3 percent) in 2010, and by 47,881-36,701 (56.6 percent) in 2006. Silvestri's allies in the 36th and 41th wards have evaporated, and his popularity in Elmwood Park, Franklin Park, River Grove and Schiller Park has dwindled. Remappers did him a huge favor by pushing his district outward into parts of Park Ridge and Des Plaines. Silvestri is beatable, but only by a credible, well-funded Democrat.
12th District: Wicker Park ain't Jefferson Park. But it could be Portage Park. Fritchey's political organization consists of his creativity and his computer. When he got divorced from a daughter of the Banks' Clan, he was on his own. He lost a congressional race in 2009, and didn't run for 32nd Ward committeeman in 2012. The district extends from Wicker Park through the 47th, 40th, 39th and 45th wards. If he's opposed by a West Ender like John Garrido, John D'Amico or Randy Barnette in 2014, he could lose.
**
Russ Stewart is a political analyst for the Chicago Daily Observer